compressor

Oil-injected
screw compressors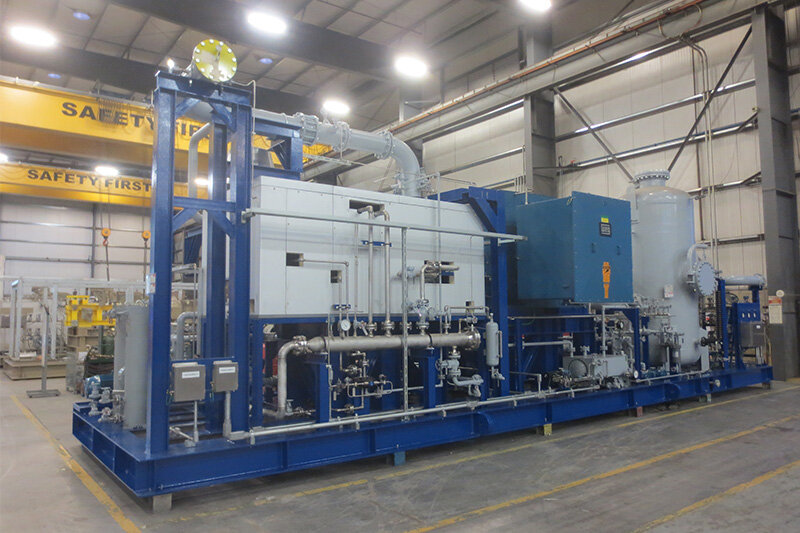 Oil-injected screw compressors with a delivery track record of over 1,000 units for users all over the world
KOBELCO started to manufacture and provide oil-injected screw compressors in 1974. Since then, we have delivered over 1,000 units to users inside and outside Japan for use in a large number of applications. Examples include hydrogen gas, helium gas, coke oven gas and gas turbine fuel gas. A recent example is low-pressure engine fuel gas for LNG carriers.
Overview
Oil-cooled (wet) screw compressors inject oil into the compressor chamber. The applied oil creates a seal between the rotors that improves volumetric efficiency, making these compressors suited to applications involving high pressures and compression ratios. The compressor capacity can be adjusted by a slide valve mechanism, reducing energy losses from load fluctuation.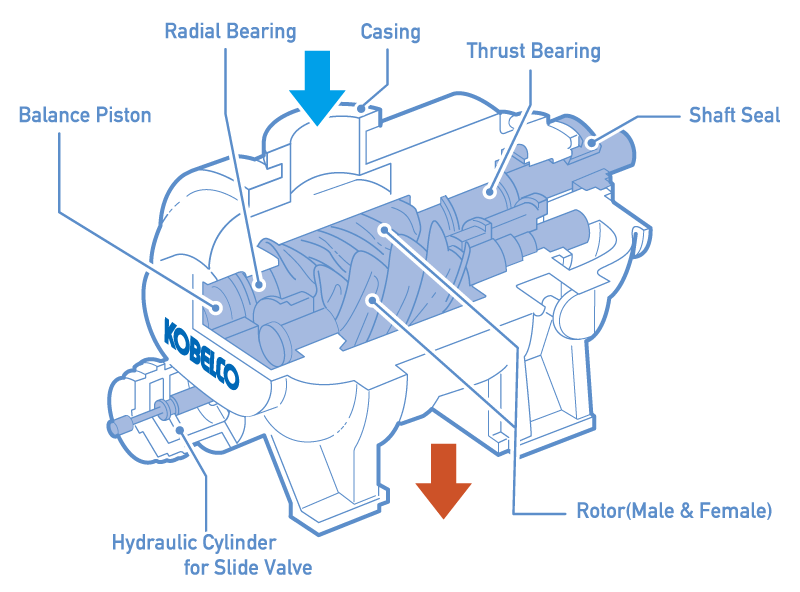 Product description
Single-stage models (one-stage compression) and tandem models (two-stage compression) are available.
Models with maximum airflow of 34,000 m3/h (for suction) and maximum discharge pressure of 100 bar(g) are available.
The capacity can be adjusted with a slide valve (from 15 to 100%), enabling energy-saving operation.
KOBELCO's proprietary oil-separation system design minimizes the amount of oil contamination in the process gas.
The optimum lubricant oil type can be selected to match the process gas and application. Kobelco-branded oils can be supplied.
The lineup includes advanced wet screw compressor that inhibit the effects that the process gas dissolved in the lubricant oil has on the bearings.
Main applications
Hydrogen process (liquefaction, PSA)
Fuel gas compressors for gas turbine generators
Fuel gas compressors for LNG carriers
Helium process
Pressure swing adsorption
Fuel gas for low pressure engine for LNG carriers
Boil-off gas for LNG terminals
Cokes oven gas