Compressor segment

Compressor segment

Drawing on solid technology and experience to provide optimized solutions for a wide range of requirements
Compressors are the core components of industrial plants. KOBELCO is one of the world's leading manufacturers and vendors of compressors, with a lineup of screw, centrifugal and reciprocating types. Our advanced technical expertise, wealth of experience and extensive delivery track record in each of these types let us provide optimized solutions to various applications and operating environments. Our fine-tuned support services ensure maximum user satisfaction from consulting during installation, to compressor optimization (design/manufacturing) and after-sales service.
High performance and reliability in a wide range of environments
KOBELCO has worked with compressors for over a century, with manufacturing and sales of over 10,000 units. Our users are located in Japan and more than 70 countries worldwide. Our compressors have been installed in power plants, steel manufacturer and a wide range of other facilities. Their operation remains stable even under the type of extremely tough environment found in offshore oil and gas production facilities. Their world-class functionality and reliability have been proven time and again, satisfying even the demanding specifications of oil majors.
KOBELCO's compressor technology for future energy
KOBELCO's compressor technology and experience are being applied to the next-generation energy sector. Gas compression technology plays a vital role in producing, storing, transporting and supplying hydrogen, LNG and other alternative energy sources that could be promising substitutes for oil. By bringing this technology together with equipment such as heat exchangers and vaporizers, KOBELCO is working on improving process-wide efficiency and stability. These efforts are a solid first step on the path to carbon neutrality.
History of compressor segment
1915
RC lineup: Company enters compressor market by drawing on proprietary technology to manufacture Japan's first domestically produced high-pressure reciprocating compressor.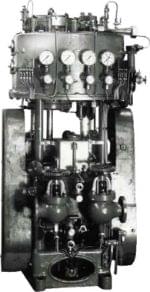 1925
RC lineup: First ammonia refrigerator completed.
1926
RC lineup: Manufacture of Japan's first domestically produced gas compressor (Model H8D50, 1,000 atm, 265 kW, 2 units)
1956
SC lineup: Delivery of first domestically produced screw compressor in Japan (Model KS31L K-3150)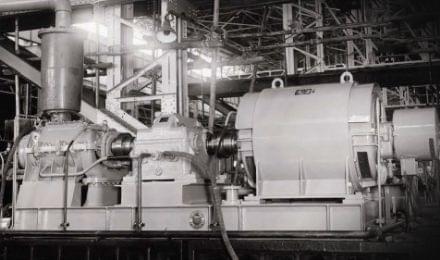 1958
RC lineup: Delivery of world's largest reciprocating compressor (Model 8F123F, 8-stage opposed type, 1,060 kg/cm2)
1961
SC lineup: Delivery of World's largest screw compressor (Model KS80L)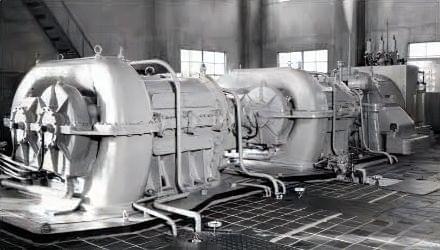 1964
SC lineup: Delivery of Shipment of Japan's first domestically produced industrial refrigerators (Models NH3, KS31LR-25LR)
1966
CC lineup: Company starts manufacturing centrifugal compressors through technical partnership with manufacturer outside Japan.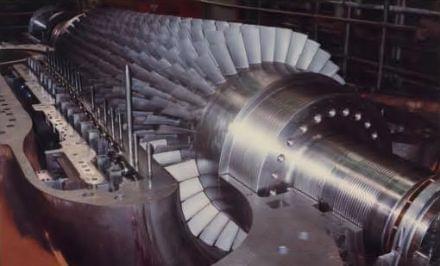 1967
SC lineup: Delivery of world's first Oil-free screw compressor with slide valve (Model KS20LAV)
CC lineup: Shipment of first integrally geared centrifugal compressor with built-in gears (Model VG574)
1991
RC lineup: Completion of Turnkey project work for Japan's largest hydrogen makeup compressor (5,300 kW) up to lines installed at site
1993
CC lineup: Development of high-efficiency open impeller (first OH1 design/development product)
1994
RC lineup: Development of LNG BOG compressor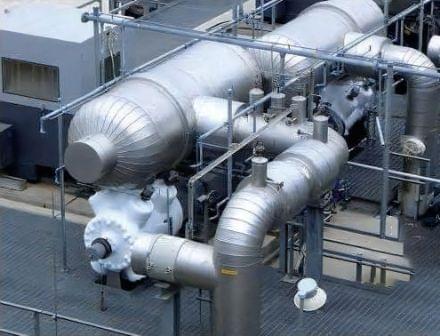 1998
CC lineup: Market release of Eco-Centri Series (centrifugal compressors coupled directly to power recovery turbines)
2003
SC lineup: First screw compressor for offshore application starts on-site operation (Model KS25SMZ-25SMZ).
2006
Establishment of Kobelco Compressors America, Inc.
2007
SC lineup: Delivery of world's highest-capacity two-stage compressor (Model KS50LTX)
SC lineup: Development of EH Series of Oil-injected screw compressors with high discharge pressure (100 bar)
2009
SC lineup: Delivery of world's largest screw compressor (Model KS80LZ)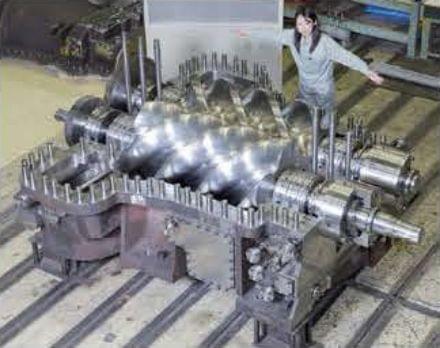 2010
Equipment for trial operation of 20 MW variable-speed electric motor starts operating.
RC lineup: Manufacture of large VVVF-drive 1,800 kW reciprocating compressors (Models KR50-3, KR50-4)
RC lineup: Development of world's largest gas load (160 metric tons; Model KR70L)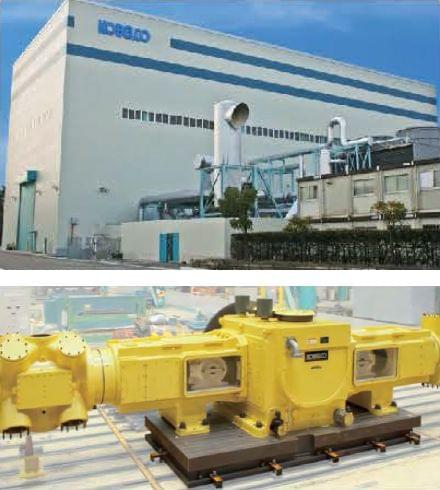 2012
RC lineup: Order received for world's highest-pressure LNG BOG compressors (3 units).
2014
CC lineup: Prototype of huge centrifugal compressor with capacity of 300,000 Nm3/h (Model VG683)
2020
Kobelco Wuxi copressor Co., Ltd.acquired as wholly owned subsidiary.